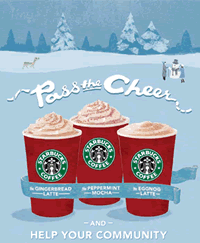 I'm no paid advocate for Starbucks but a classmate of mine recommended I'd try the Peppermint Mocha offered during the Christmas season in their signature red cups. And boy was it yummy!! Like After Eight in a cup, it's the holiday season embodied in a chocolatety minty cuppa joe. Mmm...perfect for rainy Vancouver and blistery New York winters!

The holiday season has also gotten me into the mood of shopping & picking up gifts to check off my Christmas list.Other great holiday items I picked up as Christmas

edges closer include:
MAC Cosmetics Holiday 2008 Passions of Red Fascinating Eyes Palette


A festive burgundy winter puffer coat




Red suede knee high boots from Chinese Laundry




A fab red lipstick which I've test driven at school & got awesome responses! :D
Christmas is less than 3 weeks away...Better get cracking on those Christmas lists & send out those Christmas cards! Happy shopping!